Purpose for anonymity
Sometimes people want to put content on the web without tying their identity to that content. There are many legitimate reasons why this might be the case. Some individuals might face backlash for exposing crimes, others may be taking and advocating for unpopular opinions. Still others might fear retaliation from government agents.
No matter the reason why you may want to share web content anonymously, one thing that you should do is to make sure that your domain is registered privately. A privately registered domain means that individuals will not be able to see the owner of a website, and thus will not be able to backlash or retaliate against the owner of a website for the content it contains.
Anonymous Domain Services

One of the more recent services that provide anonymous domains is IT Itch. IT Itch offers domain registration with a special emphasis on privacy. They have private domain registration to help maintain your privacy and, as an added level of protection, also accepts bitcoin as the default payment method. This is important because bitcoin is extremely difficult, if not impossible, to trace back to an individual.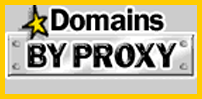 Domains by Proxy is another popular web hosting service that offers anonymous domains. Not only can you register the domain privately but also get email service for the domain, control your server names, as well as control all domain contact information. These various services all help to contribute to your ability to privately post information on the internet. Moreover, Domains by Proxy is one of the oldest private domain registration services, operating since 2002.

Silent Register is another popular anonymous domain registration service. They offer websites with .com, .net, and .org endings and are one of the less expensive private web hosting services that is available. Like Domains by Proxy, Silent Register also offers email services to keep your communications private, as well as DNS services, WEB and URL forwarding, and other domain management tools. Additionally, Silent Register has an easy to use tool that allows you to search your domain in order to ensure that it is available, and then allows you to privately purchase the domain right then and there.

Finally, Vindo Anonymous Hosting is another option for getting an anonymous domain. Vindo is a company that is based in the Netherlands, a country known for its strict privacy laws. It offers anonymous hosting anonymous VPS, as well as anonymous domain registration. In fact, the company takes privacy so seriously that the only thing you need in order to register a website is an email address. Vindo also takes a number of different payment methods, including credit cards, PayPal, bank transfers, PerfectMoney, and the preferred currency of the privacy conscious consumer, bitcoin. By offering anonymous domain registration services and accepting so many different payment methods, Vindo facilitates your ability to put content online and to own a website without having to worry about being hassled by the numerous trolls on the internet these days.
Final note
As you can see there are a number of different services that offer anonymous domain registration services. You should make sure to careful compare the different services and explore their backgrounds and histories in order to determine which service is the best option for you. Your privacy is important. With all of the conflict and violence today it is important to make sure that you, your family, and your loved ones can be free of threats from those who do not want the information you want to post on the internet to get out. Don't expose yourself to attacks, make sure to register your domain privately.